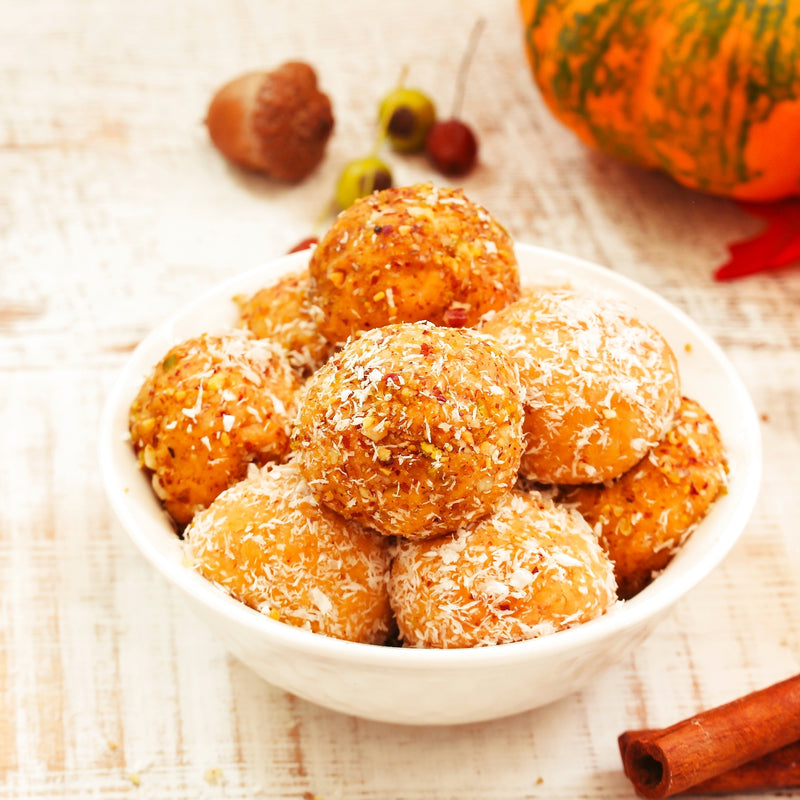 Recipes for Ritual
Pumpkin Pie Protein Energy Balls
We love it when an indulgence is equally as delicious as it is healthy. Our Pumpkin Pie Protein Energy Balls are packed with festive flavor and are the perfect bibte-sized pick-me-up to keep you fueled on the busiest of days. These energy balls can also satisfy cravings when you just need a little treat — but make it healthy!
The addition of Lion's Mane and Cordyceps double extract provide the brain and body energy that you need to keep you going and flowing.
SERVING SIZE:
Makes 20-24 energy balls
INGREDIENTS:
1 cup coconut flour
1/2 cup pumpkin puree (unsweetened)
10 dropperfuls (10mL) Lion's Mane tincture
10 dropperfuls (10mL) Cordyceps tincture
2 scoops (about 2 tablespoons) of your favorite protein powder
5-6 medjool dates, pits removed
1 tablespoon chia seeds
2 tablespoons almond butter (we like the crunchy kind for texture)
2 tablespoons melted coconut oil, or MCT oil
1/2 teaspoon cinnamon
1 tablespoon pumpkin pie spice
1/2 teaspoon salt
1 teaspoon vanilla


DIRECTIONS:

Combine all ingredients in a food processor and pulse until the mixture comes together and sticks. You may also combine ingredients by hand and mix until smooth. Roll the batter into bite-side (or 2-bite sized) small balls. Refrigerate to solidify. Serve and enjoy!
TIP:

For a decadent garnish, roll the balls in delicious toppings (before refrigeration) such as coconut flakes, black sesame seeds, crushed pumpkin seeds, or raw cacao.